Halloween has always been my favorite holiday.  As a Gen-X kid with an October birthday, it was an excuse to have a costume-themed party every year!   (For younger readers, Cos-Play and year-round dress-up was not a thing in the early '80s)  Like many things from that era, our parents didn't really think about how this holiday affected our pets, until in many cases… it was too late.
Thankfully we are older and wiser now, so let's get the information out there.  Not all families with pets have the same level of knowledge level or experience to know what to do or expect.  That is why I have put together some information to help set you up to succeed and keep this happy holiday FUN for everyone.
Decorating and Preparing:
Whether you prefer some nice fall and a few spooky touches for the season or go all out, there is bound to be stuff your pets have not seen often or at all.  Consider the age and maturity level of your pet, are they teething or just really love to chew and can't help it?  Those lovely decorations could be confused with new toys.
Animatronic toys can scare us… and we know what they are and how they work.  Imagine what your pets may think.  Walks around the neighborhood could even be scarier during this time of year.  Bring lots of yummy goodies to redirect attention or positively associate items when your dog is being brave.
Cute decorations or electrical cords and wires can be harmful or even deadly to your pets.  Assume they will be curious about all the new items and decorate accordingly.
Another popular decoration and activity item is pumpkin carving.  Did you know that pumpkin (Freshly cut or fresh from the can) is actually very healthy for your dog?  Let them be part of the fun on carving night!  Seeds and pumpkin flesh, both cooked or raw, have great benefits to digestive and urinary health, and can aid weight loss! (if your pet has diabetes or chronic kidney disease, consult with your vet first.)
Pumpkins can go rancid fairly quickly, so only use them when they are still fresh and freshly cut or, if you are using it as a digestive aid or for weight loss, 100% Organic Pumpkin Puree in a can (no added sugar or spices) is what is recommended.  I like to make pumpkin ice cubes and keep them to use throughout the season or even year-round!
Pumpkin is a great source of fiber (for humans too!)  1-2 TBSN can be added to their meals to help regulate their systems and help with indigestion or upset stomach. Basically for both diarrhea and constipation.
Pumpkin seeds are high in essential fatty acids and antioxidants (great for healthy skin and fur).  The oils in pumpkin seeds and flesh improve urinary health and is an excellent source of vitamin A, Beta-carotene, potassium, and iron.
Most dogs seem to naturally love pumpkin.  Replacing some of their food with the same portion of 100% pumpkin puree can help with weight loss.
Remember, Jack-o-Lanterns are adorable, fun, and traditional, but too much pumpkin can cause an upset tummy.  Keep that cute carved face on the porch safe and away from your dog.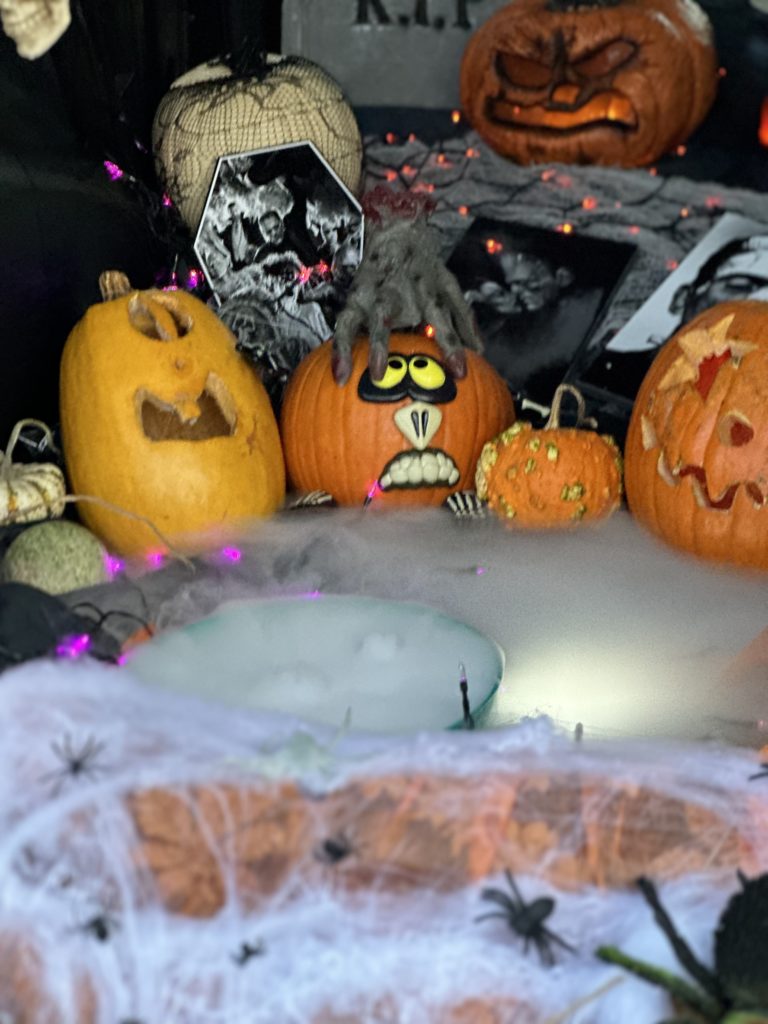 PARTY TIME!
Halloween time is a great time to get together with friends, dress up, and have some fun.  As I said, my favorite kind of party!  However, it may not be so fun for your dogs, even if they are familiar with most of your guests!  
Costumes… for the humans that is.  Your dog doesn't always understand that a costume is a removable item.  They can be very scary to them, even if it isn't intended as a scary costume.  It can change the shape of a person's body and face.   Let them watch you get ready to help them comprehend your transformation and show them it is still you under there.  
Costumes… for the dog!  We all know that dressing up our dogs is more for us than for them.  So be creative to keep it comfortable for them if they will be wearing it for an extended period of time.   First and most importantly, avoid choking hazards.  If your dog is not used to dressing up regularly, a costume may cause undue stress.  A cute and festive bandana is always a great option.
You want to make sure the costume isn't constrictive, annoying, or unsafe.  You don't want to restrict their vision, hearing, or ability to breathe or bark.  Costumed pets should be supervised at all times.
A pup dressed up like an AT-AT, or DIY Ninja Turtle makes a great picture, but those hard or rigid pieces and items that go on or around their heads can be distressing and uncomfortable.  Shirt or harness-style costumes that flex with the dog are better for long-term wear.
Make sure your pet isn't overheated by the costume.  Little lions and panda bears are adorable, but here in S. California we often have warm weather throughout October and sometimes even into November!  If you are going to have your pet dressed up for a longer period of time, check in with how they are doing frequently and bring plenty of water.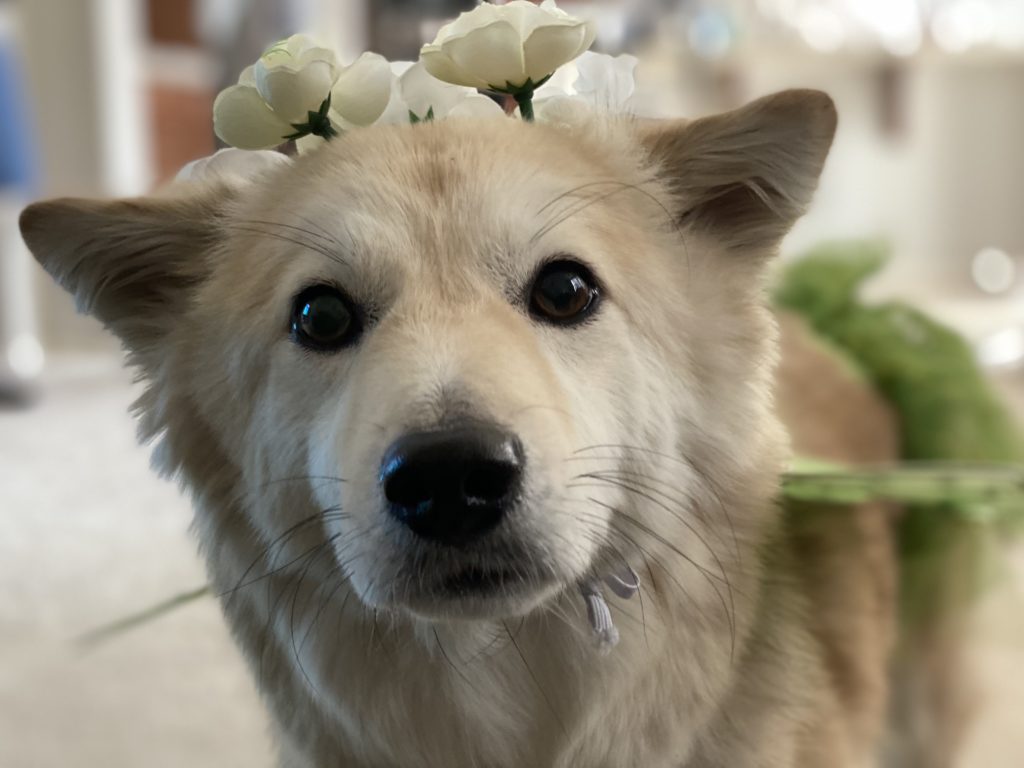 Halloween Parties and Trick or Treat time:
Creating a safe and quiet space for your pet to stay.  This is recommended for both a party night and Halloween night during Trick or Treat Hours.  Long-lasting chews and/or frozen stuffed KONGS are great for redirecting their attention away from the door.
Before things get started make sure your dog has had plenty of physical activity earlier that day.  All but the most social and desensitized dogs should be kept at home and in a separate room during trick-or-treating or party hours. 
Lots of strangers in strange garb can be scary.  We recommend you don't take your pet Trick or Treating.  Dogs may become overly excited and uncomfortable.  This combination can easily lead to a bite, even from a pet who's never bitten before.  
We also don't want pet Door Dashing out through an open door.  Make sure your pets have an ID on them at all times.  Baby gates, tethers, or crates are great backup options to have in place.  
Don't leave your pets out in the yard on Halloween.  This not only can be scary for them, but it leaves them vulnerable to many hazards. Halloween night is full of pranksters, even if they do not have any ill intentions.  Your dog isn't going to understand jokes and teasing from a stranger, especially in strange clothing.  This can give your pet fear and anxiety, or cause them to escape the yard.   Unfortunately, not all pranksters play harmless pranks.  There are many reports of pets who get injured, stolen, or even killed on Halloween.  
Last but not least… CANDY and TREATS!!
If you have candy ready for the big night, or you have a group of Trick or Treaters yourself, be careful of where that candy is stored, both before and after the holiday.  
Chocolate can be toxic, as we know, but also sugar-free candies, gum, or baked goods containing Xylitol or Birch Sugar.  Too much regular sugar can also make your pet very ill.  (diarrhea, vomiting, irritability, increased heart rate, and muscle tremors)
Beware of Counter Surfers!  Make sure all the candy is kept as far out of reach as possible.  Foil, plastic, or cellophane wrappers can be hazardous if swallowed.   If you have a young dog or a chewer, make sure the kids aren't leaving it laying around either.
It isn't just candy, be careful with glow sticks or even small plastic items.  Children often carry glow sticks through the darkened streets to stay safe.  That is great, but if your pet finds them and punctures the plastic tubes, getting to the liquid inside, your pet may become hyper, get the zoomies, or even begin drooling excessively.   They are usually relatively non-toxic, but still not good.
To conclude, we recommend the following tips to keep your dog safe on Halloween:
1.  Ensure your dog gets plenty of exercise on Halloween day before the party starts.
2.  Make your dog comfortable in a safe space in the house and do not let them escape out of the front door.
3.  Ensure your dog is wearing their ID collar and/or a GPS Tracker.
4.  Distract your dog from the Halloween events with games or toys.
5.  Let your dog know it's you behind the scary costume.
6.  Keep your dog away from the candy and treats.
7.  Forgo the cute dog Halloween costume.
8.  Make sure your dog doesn't eat candy wrappers and be extra careful on your night walk.
9.  Avoid leaving your dog home alone on Halloween night.
With these Halloween safety tips, you can make Halloween as relaxing as possible for your furry family.
Have a safe and fabulous Halloween from Wise Dog Training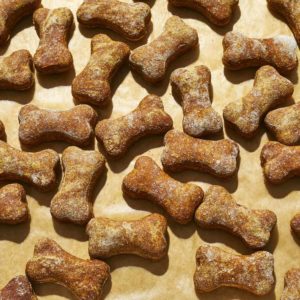 Pet-Friendly Pumpkin treats
2c Rice flour,
½ c natural Peanut butter,
1 cup pumpkin (From a can or fresh)
2-3 eggs
1.5 tsp cinnamon
Preheat 350, mix and blend ingredients together
Spread dough ¼" thick, cut into shapes with cookie cutters
Bake for 10-15 mins.

 

Let cool and store in fridge or freezer.